"Meck showed that he has the confidence and credibility to stand by his word, mean what he says, and do what he says he will do." — Jean Gray Huerta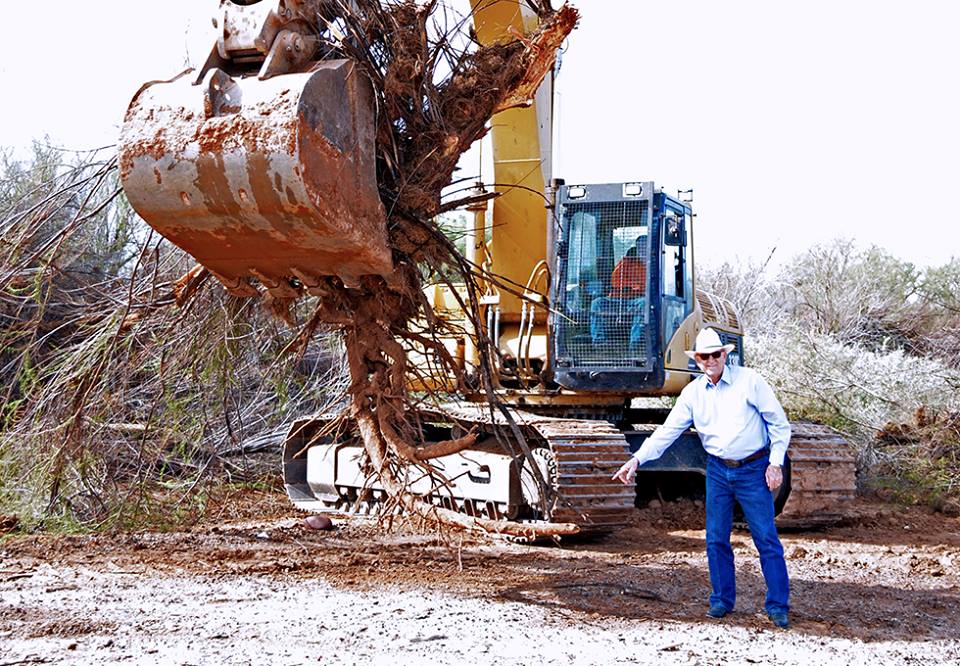 Mayor Jackie Meck, a lifelong resident of Buckeye, was elected Mayor in 2008 after a lifetime of community service and leadership.  As Mayor, Meck has spearheaded efforts to improve water and sewer lines throughout the city and secure long-term water to sustain Buckeye's growth.  He has worked to improve education through attracting a campus for Estrella Mountain Community College and West-MEC career and technical education campus.  He has also worked hard to attract and retain businesses within the city including Cardinal IG Company which has agreed to build a new 200,000 square-foot, state-of-the-art manufacturing facility just north of the city's historic downtown bringing 100 new jobs and $40 million in new investment to Buckeye.
Jackie Meck appreciates the opportunity to continue his commitment to Buckeye as mayor.
Jackie attended the University of Arizona and retired from the Buckeye Water Conservation and Drainage District.  His wife, Verlyne, retired as the librarian from Buckeye Union High School after 25 years of service.   Both Jackie and Verlyne have resided in Buckeye their whole lives, where they raised three children and are the proud grandparents of Gracie, William, Audrey and Jackson.
Leadership & Service
Jackie Meck has never been one to stand on the sidelines.  Following are some of his past and present activities that show he has always been committed to seeking the best for Buckeye.
Occupation
Mayor
Farmer
Entrepreneur
Small Business Owner
Buckeye Water Conservation and Drainage District (Retired General Manager)
Community Government & Leadership
Mayor, City of Buckeye (2008-)
Buckeye City Council (2002-2006)
Mayor, Town of Buckeye (1973-1975)
Buckeye City Council (1968-1975)
Maricopa Assoc of Governments-Executive Committee (current)
Maricopa Assoc of Governments-Regional Council, Elected Vice Chairman (current)
Maricopa Assoc of Governments-Economic Development Committee (current)
Maricopa Assoc of Governments-Transportation Policy Committee (Past Board)
WESTMARC – West Valley leadership (Past Board of Directors)
Greater Phoenix Economic Council (Past Board of Directors)
Economic Development & Community Support
2016 Lifetime Achievement Award by Agribusiness & Water Council of Arizona
West Valley Hospital (Board of Trustees)
Mesquite Power-Arlington (Advisory Board)
Fighter Country Partnership
Luke Air Force Base Mayor and Manager Committee
Buckeye Valley Chamber of Commerce (Council Liaison, Past President)
Buckeye Valley Development, Inc. (Past Board of Directors)
Agri-Business Council of Arizona (Vice President, Past President, Board of Directors)
Irrigation and Electrical Districts Association of Arizona (Past Board of Directors)
Colorado River Water Users Association
Red Hawk Gas Fired Turbine Advisory Board (Past)
Duke Energy Advisory Committee (Past)
Medical Facility Study (Past Chairman)
Recreation & Conservation
White Tanks Mountains Conservancy (Vice-Chair)
Tres Rios Nature Festival (Chairman)
El Rio Restoration Project-Gila River (Executive Committee member)
Arizona Agricultural Protection Commission (Past Board of Directors)
Youth & Education Activities
Estrella Mountain Community College (Advisory Board)
Estrella Mountain Community College Bond Committee (Past)
Buckeye Union High School Bond Committee (Past & Current)
Buckeye Elementary School Bond Committee (Past)
Buckeye High School Assistant Football Coach  (1993-1994)
Buckeye High School Assistant Baseball Coach (1985-1996)
Community Activities
Long-time member and Deacon, First Southern Baptist Church in Buckeye
All Faith Community Services Member
Pioneer Days Parade / July 4th Celebration Announcer for 40 Years
Pioneer Days Celebration (Past Chairman)
Buckeye Valley Centennial Commission (1988)
Buckeye Coordinating Council (Past Chairman)
Buckeye Elks Club
Buckeye Lions Club
Buckeye Valley Museum
West Valley Fine Arts
Phoenix Art Museum
Heard Museum