Endorsements


The West Valley View, in endorsing Mayor Meck, said, "..we like what we've seen from Meck and we'd like to see more. We like his enthusiasm, we like his experience and institutional knowledge, and we love that he offered to forego his salary when the recession hit." Read it for yourself:  http://www.westvalleyview.com/articles/2016/07/27/meck-youngker-guy-hess-have-our-support
— The West Valley View
---
"With a business located in Buckeye, I can tell you first hand that Mayor Meck has a strong track record of supporting businesses and helping them to succeed.  As a life long resident, Jackie has strong relationships within the agricultural and farming community who helped make Buckeye what it is today.   We can count of Jackie Meck's leadership to look to the future while embracing this town's roots.  I am proud to give him my support."
— Supervisor Clint Hickman, Maricopa County
"I am proud to support Mayor Meck's re-election.  He has been a champion for preserving open space and improving our quality of life.  His leadership and hard work on the White Tank Mountain Conservancy has improved our entire region and provided a great example for others to follow.  I commend him for all of his hard work to preserve our greatest natural resources for future generations."
— Mayor Cathy Carlat, City of Peoria

"I have worked closely with Mayor Meck on the Maricopa Association of Governments Executive Committee and on the Regional Council.  His experience and dedication to fiscal responsibility is well known across the region and is an asset to Buckeye and the entire West Valley.  Mayor Meck has a firm grasp on the big picture issues facing our state and our region and we are blessed to have his leadership."
— Mayor Michael LeVault, Town of Youngtown
---
"Mayor Meck and I have worked together to make sure that we are doing everything we can to ensure that the entire West Valley is 'Open for Business.'   He has been a champion for attracting jobs and economic opportunities.  I strongly support Mayor Meck and I ask that Buckeye voters to join me in supporting him."
— Mayor Lana Mook, City of El Mirage
"When it comes to key issues such transportation, water, or job creation, Mayor Meck just gets it.  He has been a leader in promoting regional cooperation and attracting economic opportunities that benefit Buckeye and the entire West Valley.  I am proud to give him my support."
— Mayor Sharon Wolcott, City of Surprise
"Serving everywhere from the Elks and Lions Clubs to the Buckeye Valley Chamber of Commerce, Mayor Meck has been committed to a lifetime of community service and leadership.  I have worked closely with him to serve Veterans throughout our community and ensure they have the help and support they need.  That's why I'm endorsing his re-election for Mayor of Buckeye."
— Mayor Jerry Weiers, City of Glendale
"It has been my pleasure to work with Mayor Jackie Meck in several regional organizations and on important issues regarding jobs, economic opportunities, and transportation.  He has been laser focused on job creation and a great champion for businesses throughout the Southwest Valley.  The entire region benefits from having Mayor Meck as part of the team.  I am proud to offer my support."
— Mayor Kenn Weise, City of Avondale
---

"The Arizona Correctional Peace Officers Association, one of the largest public safety organizations in the State of Arizona representing thousands of state employees, proudly endorses the re-election of Jackie Meck for Mayor of Buckeye.   Our association  strives to support law enforcement throughout Arizona, ensure adequate training and safety for our members, as well as protect the rights of our employees.
Mayor Meck is dedicated to public safety and has worked well with law enforcement throughout the community.  He is a proven leader who has shown his willingness to bring people together to find solutions and ensure that Buckeye is a safe community to live, work, and start a business.
Mayor Meck has improved public safety by spearheading the efforts for new public safety facilities, locating new substations, and supporting a 180 foot communications tower to improve communications.  He has also embraced innovative approaches such as partnering with correctional institutions to address pressing needs as well as long term challenges such as eradicating salt cedars in our riverbeds which create major flooding concerns.
The Arizona Correctional Peace Officers Association wholeheartedly endorses Jackie Meck for Mayor of Buckeye."
— Arizona Correctional Peace Officers Association
— Len Sustaita, Executive President
---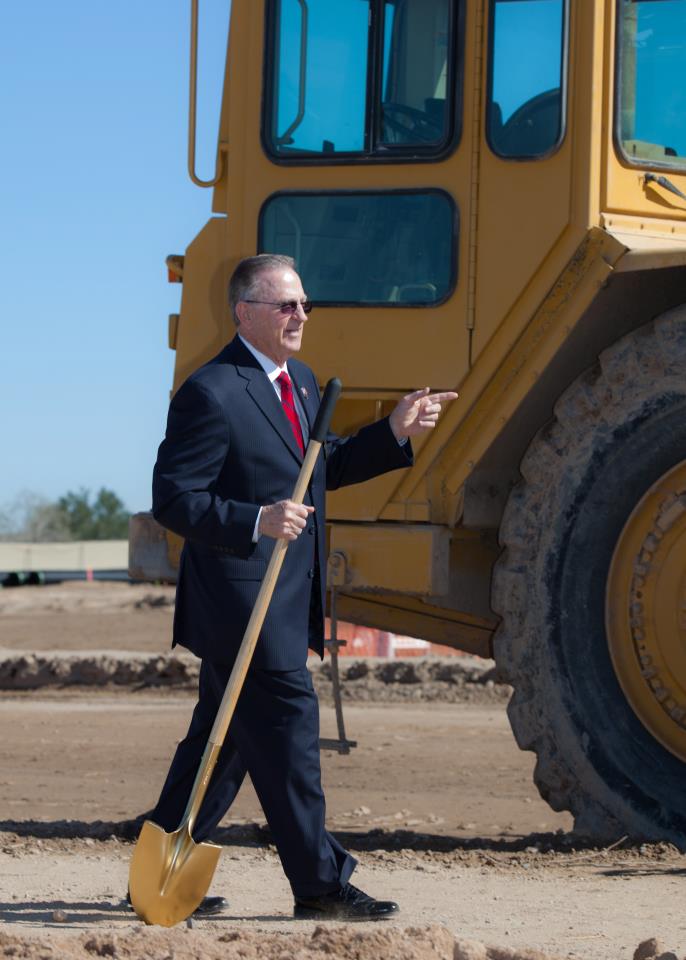 About Mayor Meck
Mayor Jackie Meck, a lifelong resident of Buckeye, was elected Mayor in 2008 after a lifetime of community service and leadership.  As Mayor, Meck has spearheaded efforts to improve water and sewer lines throughout the city and secure long-term water to sustain Buckeye's growth.  He has worked to improve education through attracting a campus for Estrella Mountain Community College and West-MEC career and technical education campus.  He has also worked hard to attract and retain businesses within the city including Cardinal IG Company which has agreed to build a new 200,000 square-foot, state-of-the-art manufacturing facility just north of the city's historic downtown bringing 100 new jobs and $40 million in new investment to Buckeye.